A Porkkala museum in Degerby?
Love knows no borders!
Where was the world`s longest railwaytunnel?
Not even all Finns are aware of the fact that the Porkkala area was leased to the Soviet Union in 1944-1956. And the fact that Soviet leased such a large area, about 1000 squarekilometres, still surprises. That is why visitors arriving at the Degerby Igor museum also often ask why the museum is situated outside the area that once was the Soviet naval base. As a matter of fact Degerby, nowadays belonging to the Inkoo community, was the western most part of the base.
The museum is run by the Degerby village council and offers a lot of information about how the naval base affected ordinary Finnish people who were forced to leave the area, Soviet citizens who were sent here – and what the lease meant for the sovereignity of Finland.
We update our exhibitions every year. This is fairly easy as we constantly learn more. Now we can e.g. present the story about how the naval base was armed for a nuclear war and the story of Igor. We also tell about the Lotta Svärd–organization – a pure Finnish invention – and about a Soviet couple who married thanks to the lease.
In the yellow house we tell about the longest then train tunnel in the world – the Porkkala railway. In the museum shop you can find souvenirs, books and handicraft.
Opening hours: 1.6.– 31.8. Tuesday – Saturday 11-16.
In September-November and March-May Saturdays 12-16 and always by agreement.
Group visits should be booked in advance.
---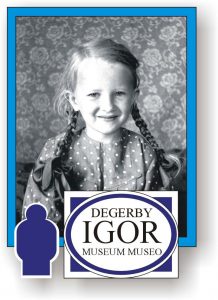 Degerby Igor
Address: Furuborgintie 6, 10160 Degerby
Tel. 040 5418526
E-mail: igor@degerby.fi
www.degerby.fi